Anthony is a porphyry molybdenum deposit discovered by Zamia in 2008 by drilling on a Mo-in-soil geochemical anomaly in an area of very little rock exposure. Drilling showed a multi-phase igneous system, intruded into metamorphic rocks of the Anakie Inlier. Molybdenum mineralisation occurs as stockwork-style veins of molybdenite (MoS2) and other metal sulphide minerals associated with porphyritic felsic intrusions, breccia bodies and extensive hydrothermal alteration. The rocks are weathered (oxidised) to a depth of around 80m.
A resource estimate, carried out by resource consultants Hellman & Schofield Pty Ltd (H&S) in March 2012, showed a total Inferred Resource (sulphide, transition and oxide molybdenum) of 114 million tonnes at 0.055% Mo at a cut-off grade of 0.04% Mo. The resource estimates was carried out in accordance with the JORC (2004) Code & Guidelines. The deposit is sub-economic at the present molybdenum price.
Drilling on induced polarisation ('I.P.') targets marginal to the molybdenum resource showed extensive porphyry-style alteration but failed to intersect significant copper-gold mineralisation.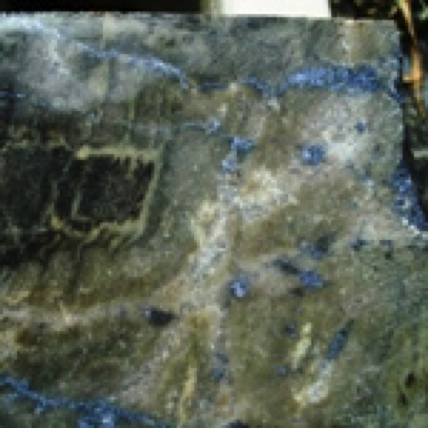 Stockwork-style molybdenum veining in altered porphyry (left) and metamorphic rocks (right)